After you have had a wander around Antony Gormley's Another Place at Crosby, near Liverpool, you must take a walk north along the beach. Time your visit for low tide and you will be amazed by the amount and sheer quality of building rubble or debris that is spilling from the dunes onto the beach and into the sea.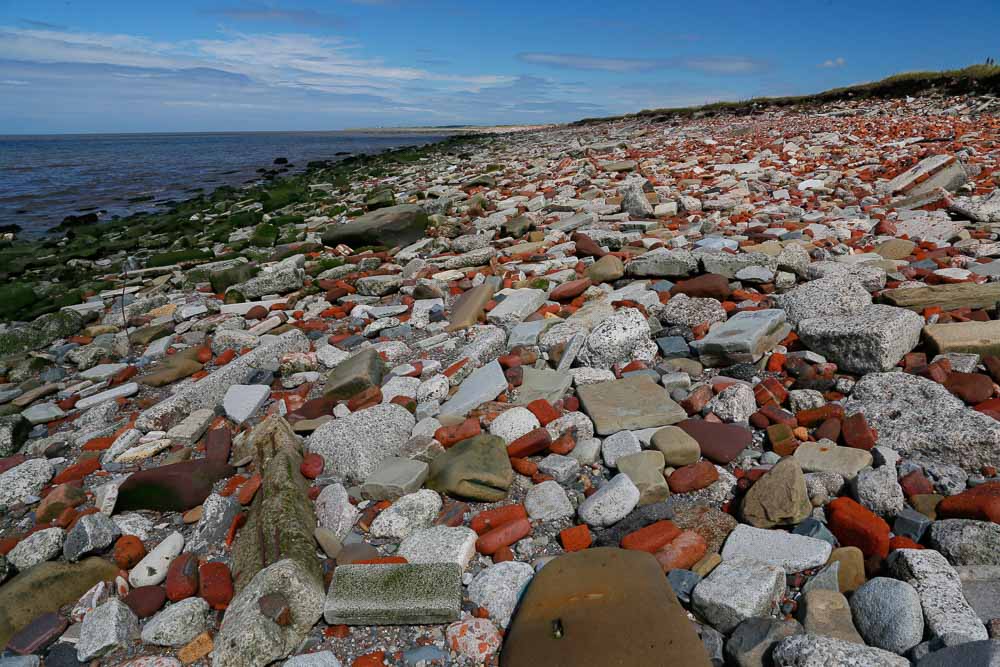 It consists of bricks, architectural stone carvings, tiles, stone floor slabs with the occasional identifiable pieces of wooden furniture. It is a brick collector's dream location with many of the bricks stamped with their maker's mark. I have struggled with my photographs to give an image of the scale of this, it is huge, stretching 2 kilometres up the coast and under the sand dunes and golf course (?) to the east.
The rubble originates from World War II and is the debris removed from Liverpool and Bootle after the sustained bombing between August 1940 and May 1941. The debris was cleared and dumped at Hightown beach. Here is an extract from the Liverpool Evening Express of June 4th 1941: Buildings Blitzed in Liverpool. Shops, Offices and Churches. Many well-known buildings were lost or damaged in Liverpool during the severe raiding recently. Office buildings, shops, stores, hospitals, churches, cultural institutions suffered impartially. The piece goes on to describe the loss of well-known shops, Cinemas, and office buildings including the White Star building, Government buildings including the County and Magistrates Courts and a long list of churches which were badly damaged or destroyed by blast and fire. It also adds that "the Liverpool football ground at Anfield was another "military objective" to suffer." Theatres, schools and hospitals are also listed.


The above photos (Wikipedia) are dated c1942. Notable landmarks are the Liver buildings ( top photo, horizon mid-right), the Custom House (top photo far left, bottom photo horizon mid-right) and the Victoria Memorial (bottom photo foreground).
Liverpool was the most bombed area of the war outside of London. It was targeted by the Luftwaffe because of its docks which were the main port of entry for vital supplies coming in across the Atlantic and it was home to naval ships from several nations. Almost 4000 people were killed and 70,000 were made homeless between 1940 – 41.
The Crosby rubble is only a few kilometres North of Bottle docks and so it did not have far to go and it is easy to see why it was dumped there. I don't know when it was dumped, presumably soon after the bombings and throughout that period. I found one brick with what appears to be a date of 1956 suggesting older rubble is also mixed in with war debris. Lathom Brickworks was a Lancashire works which produced bricks from 1936 up to the 1970s. I have seen other examples with different dates so this does appear to be a post-war brick; I do not think that 1956 is a pattern number.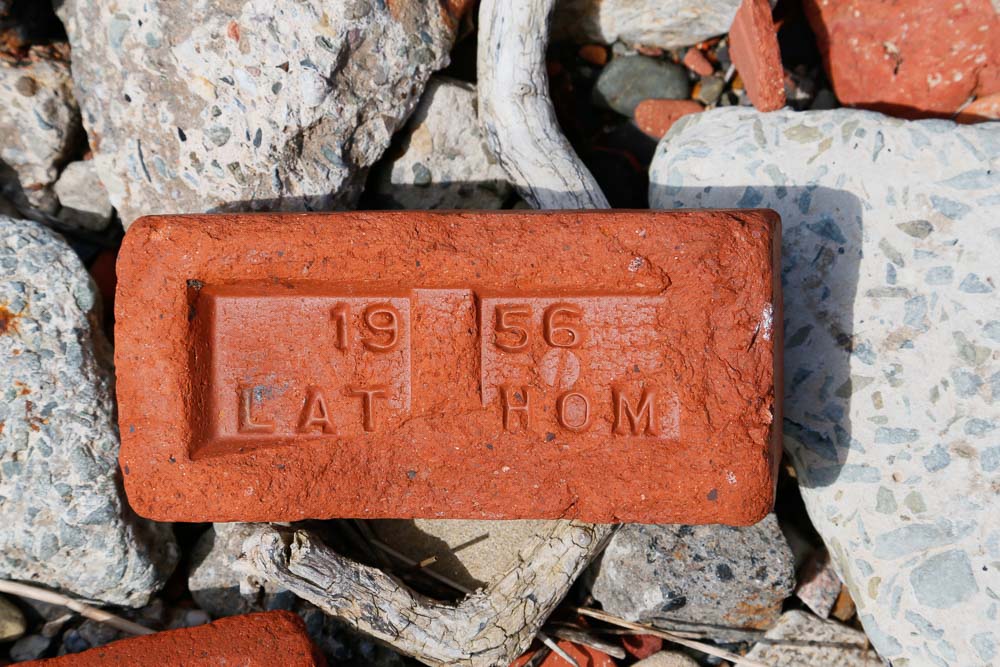 Some of the ornate stones (granite, sandstone) are huge and would have adorned some extravagant buildings, relics from Liverpool's maritime history. Notable buildings that were either destroyed or badly damaged were the Custom House, Bluecoat Chambers (an 18th-century charitable school) and Liverpool Museum. The latter two buildings were restored after the war and remain today but the remains of the Custom House were demolished.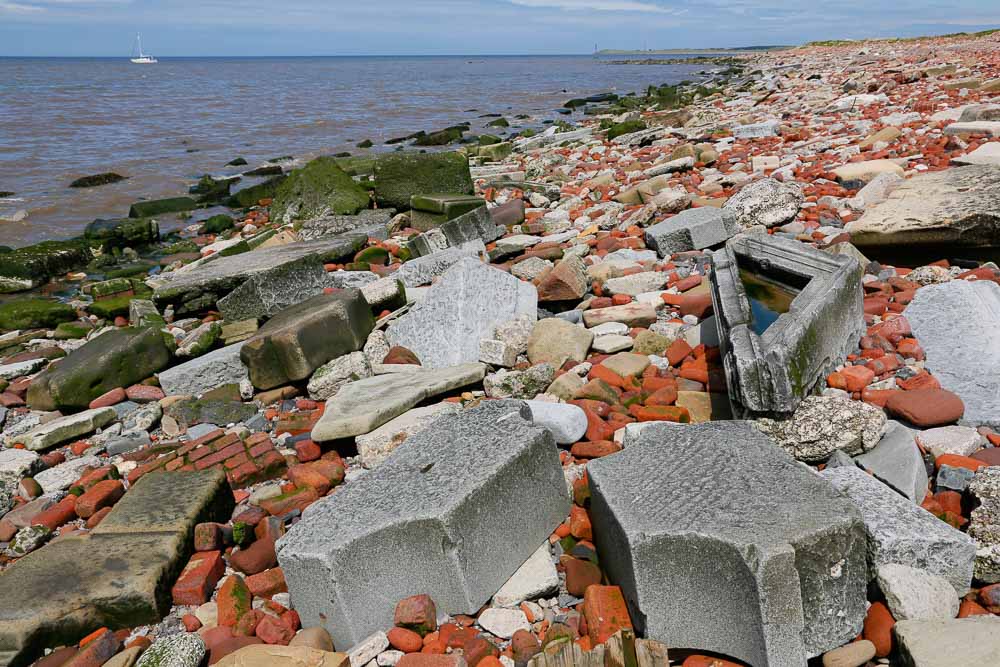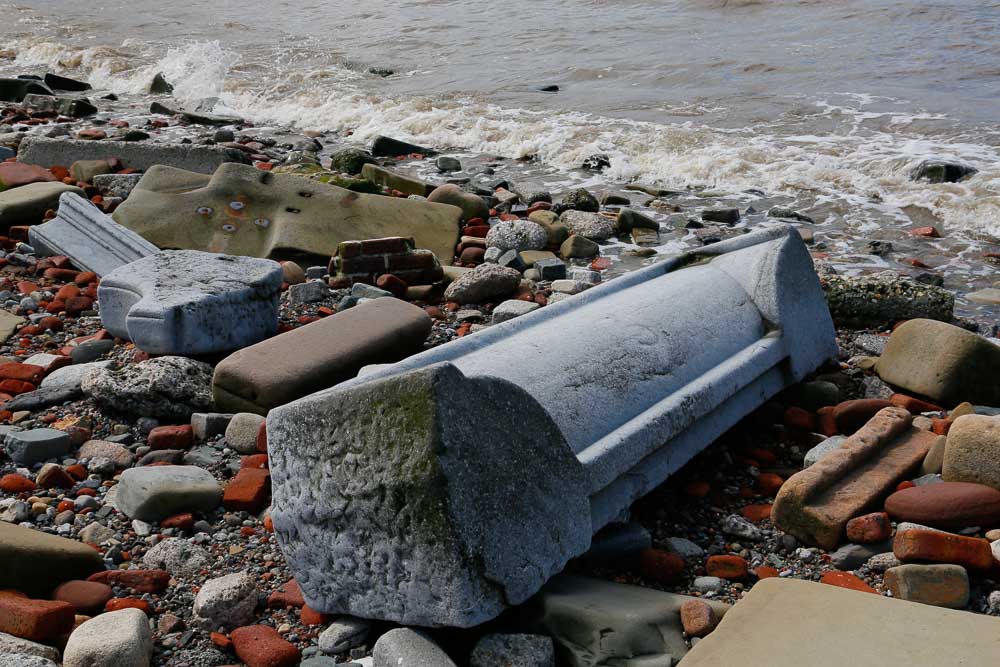 There are occasional glimpses of the human side of the debris with bits of furniture being exposed by the tides.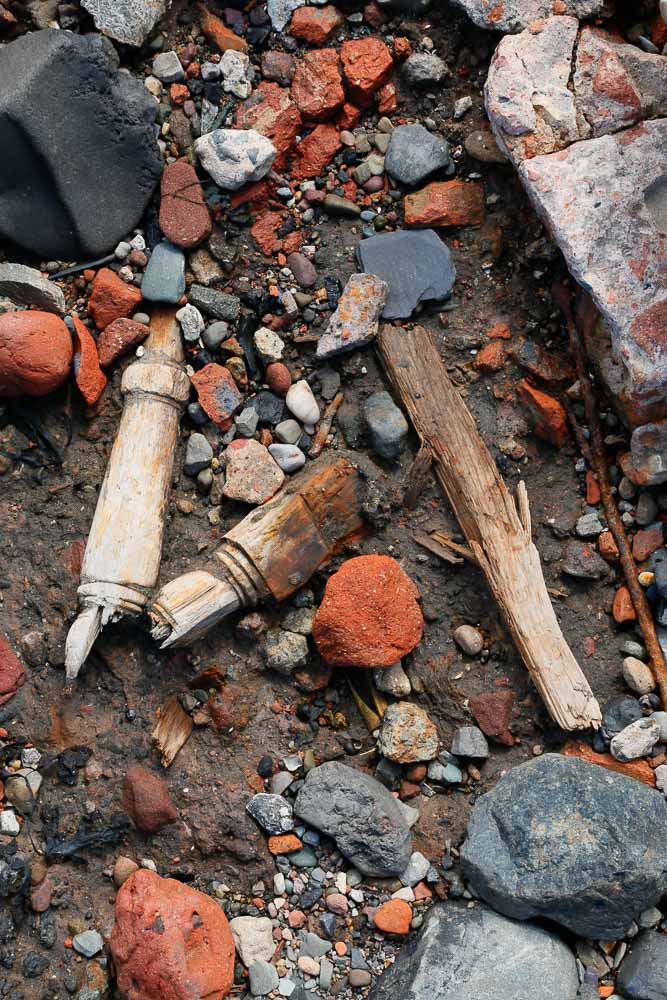 Much of the rubble that is visible is very clean having been washed by the sea for decades. However, there is evidence of burning amongst it. In the photo below the black tar-like substance has melted around the bricks to form a conglomerate. Newspaper reports from the war years talk of high explosive bombs, aerial mines, oil bombs (?) and incendiary bombs.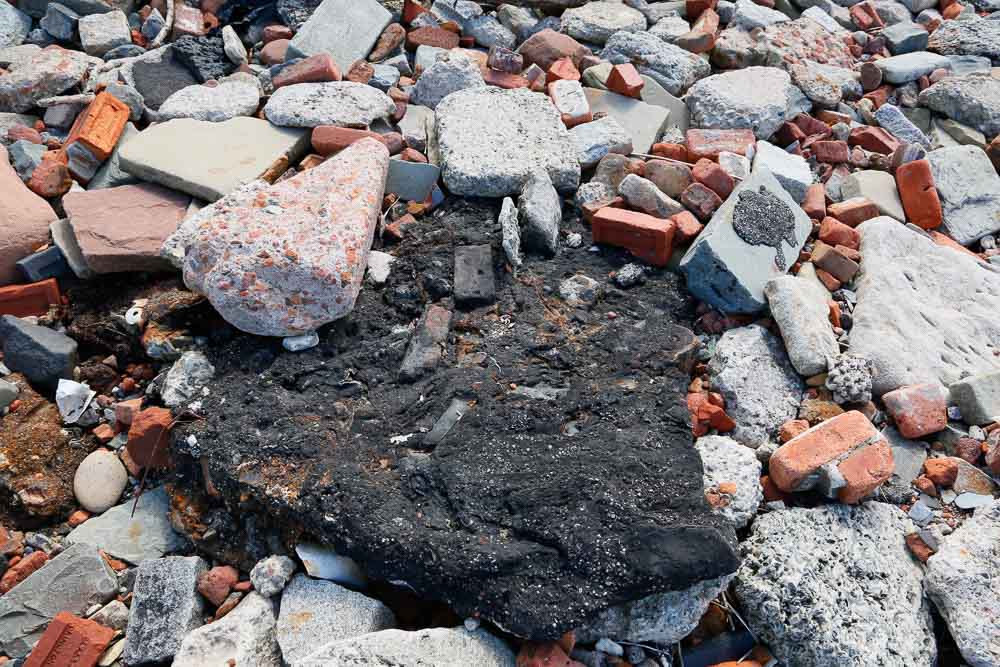 I do wonder about the safety of some of this stuff. Given the tons of ordnance dropped by the Luftwaffe including large high explosive (HE) bombs and much smaller incendiary devices by their hundreds if not thousands, I wonder if there are any unexploded bombs amongst the rubble. Whilst those clearing the debris would surely notice a large HE bomb, would they notice the much smaller incendiaries? Just a thought. I did find some very dense (small and heavy) black "stones" that I could not identify; I wondered if they were actually water-worn balls of lead from the many roof coverings that must have melted in the fires engulfing the buildings beneath; again, just a thought, I left them where I found them.
Other items on the beach are easy to identify. These are lamp posts. There are better, more obvious lamp posts but on this occasion they were covered by the tide.
Many churches were damaged or destroyed and one such church that was destroyed but has been preserved as a reminder of those times was St Luke's Church on Berry Street. Known locally as "the bombed-out church" it now houses a garden and an arts venue.
Putting aside the human tragedy that surrounds all of this. Some of the rubble has now taken on an artistic quality through years of erosion and smoothing by the sea. Like a scene from some apocalyptic science fiction movie. Maybe it is appropriate that the rubble lies next to Antony Gormley's Another Place – I don't know, I'm not sure Antony would agree.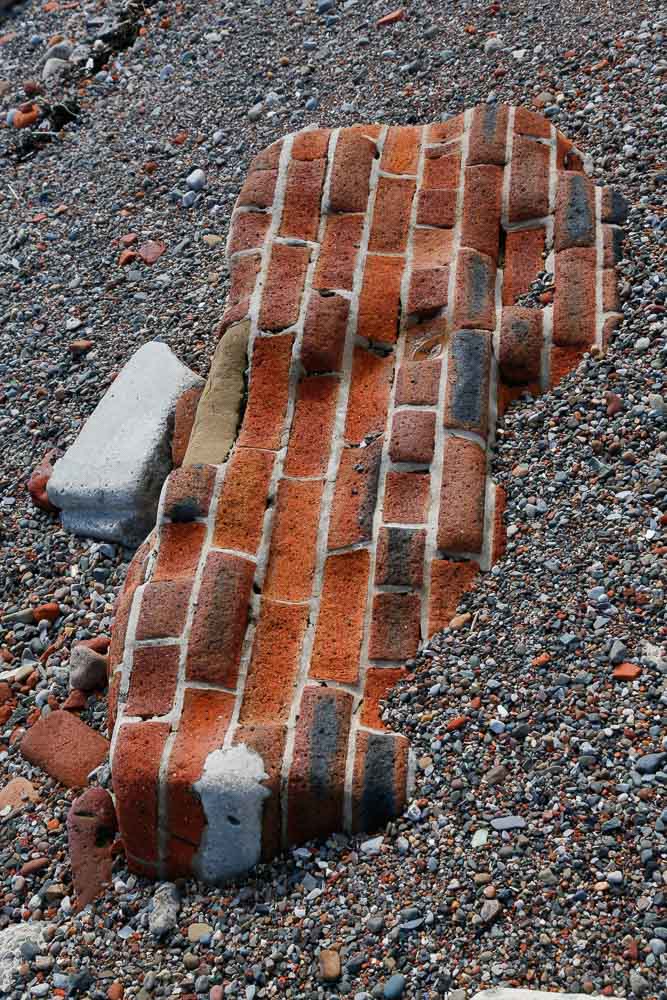 There are stories within stories here. The many bricks and their makers have their own stories. Accrington NORI for example is world famous. Known as Nori's they were made in Althom near Accrington (not that far from this beach) and were a very hard (as hard as iron) engineering brick. They were used for projects requiring great strength, such as the foundations of Blackpool Tower and the Empire State Building in New York. There are several theories about how they got their name of Nori, which is obviously iron spelt backwards. My wife, who's family is from Accrington, tells me that its because the chimney at the factory had the word IRON on it but with the "I" at the bottom, which was unintentional by design. Another story is that they were called Nori to differentiate them from a rival Accrington brick company going by the name of REDAC or Accrington Red – if spelling it backwards works for them then we can do that too.
Scousers are known for their sense of humour. Whilst researching this post I came across this snippet in the Liverpool Evening Express from 8th January 1941.
"BLITZ" BITS!

Liverpool Traders are the greatest optimists and humorists. Following a recent "blitz" a china merchant has this notice outside his shop:- "Thousands of tea-sets. Millions of pieces."