A walk around the Cairngorms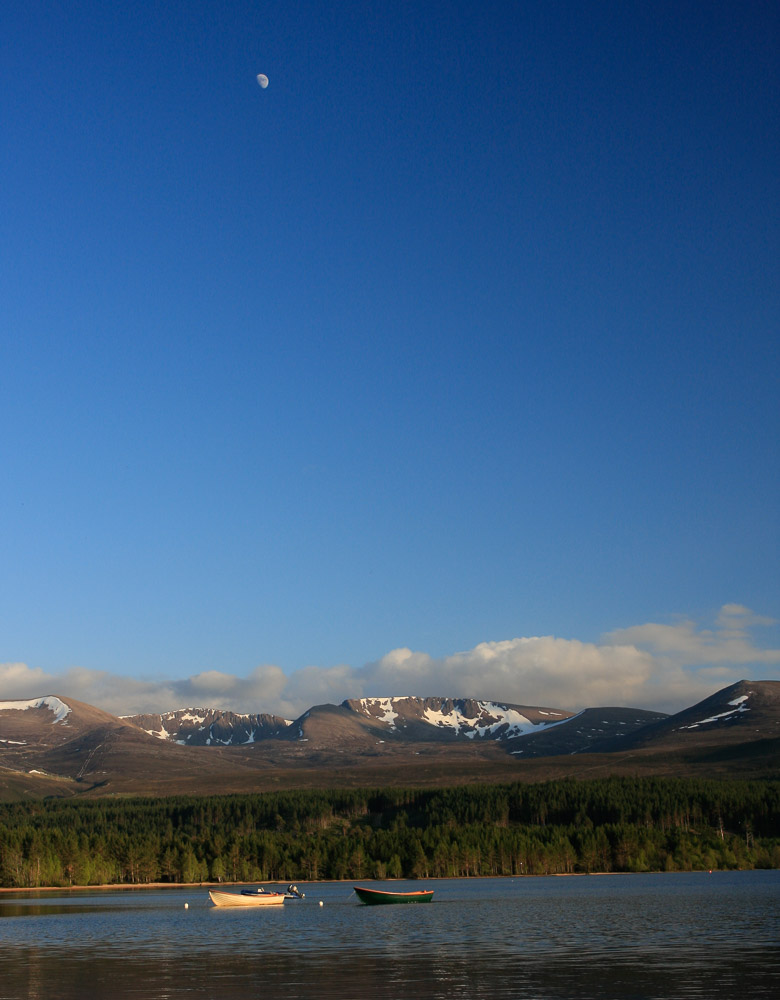 May 2008 and a car camping/backpacking trip to Northern Scotland; centred on the Cairngorms and Sandwood Bay in the far Northwest. An evening view across Loch Morlich towards the Cairngorms plateau.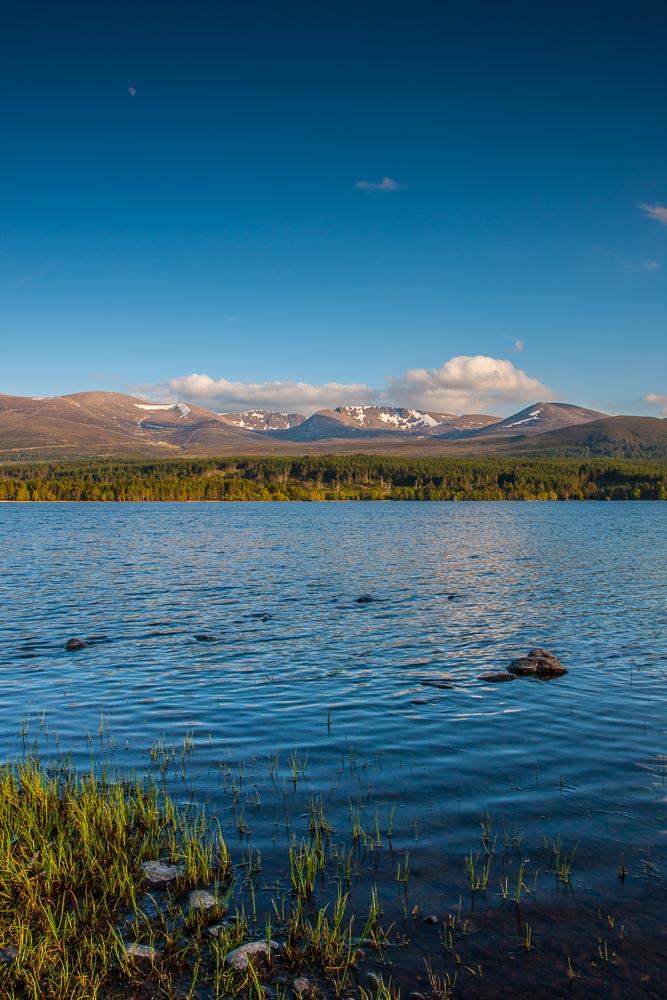 We made base camp at the campsite at the end of Loch Morlich, just off the road to the ski lifts and funicular railway at Coire Cas.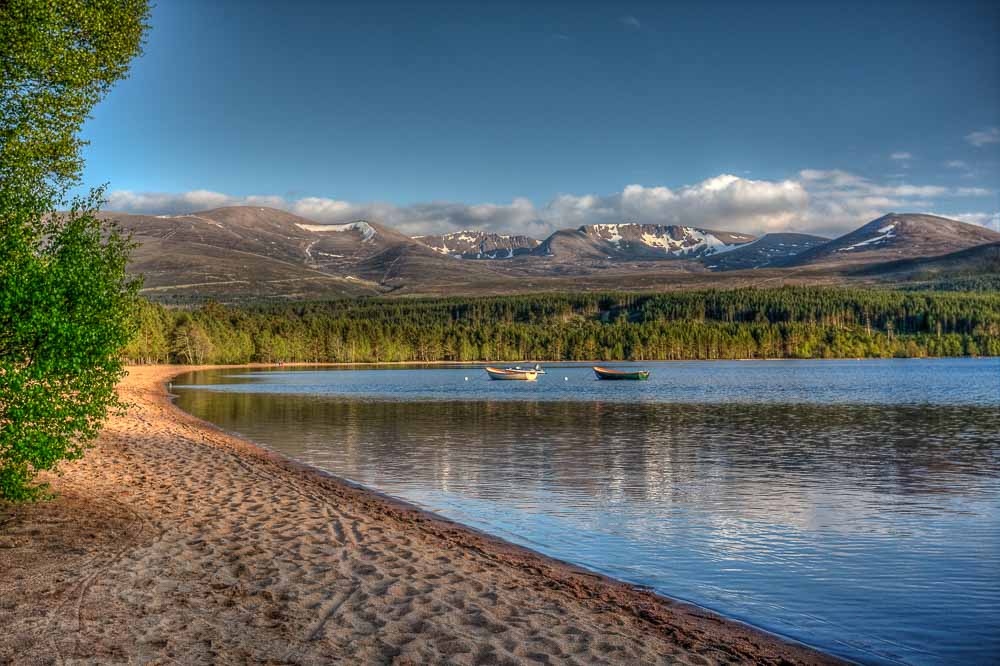 The beach at Loch Morlich would grace any Spanish Costa. If you look hard enough you can find small fragments of sand worn glass, apparently the remains of the Norwegian Commandos training to use Molotov cocktails during the second world war.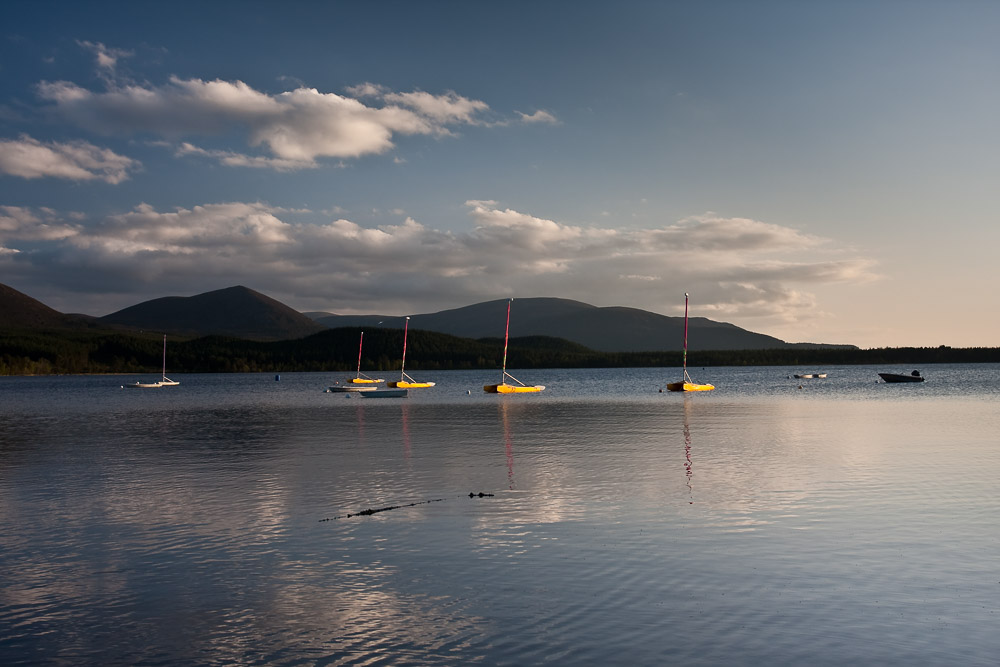 May is an excellent time of year to visit Scotland. The air is clear, the weather often sunny, if sometimes cold and, most importantly, the midges have yet to make an appearance. I once visited Skye in August and even though it poured with rain for a week the midges still managed to get out and chew on my face; in fact the water seemed to give them extra sticking power.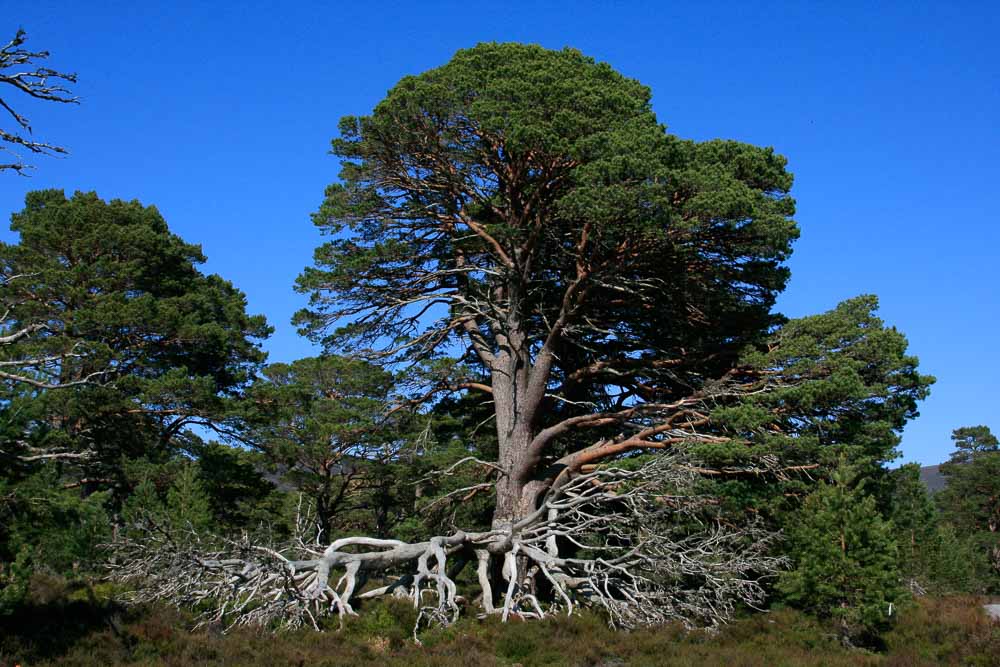 The Scots Pine trees of the Caledonian pine forest on the Rothiemurchus estate apparently have an average age of 100 years with some trees over 300 years old. This one is just off the road to Glenmore from Coylumbruidge.
Having said that May was a good time to visit, this was our first night's wild camp next to the River Dee, in the valley south west of Ben Macdui, just over the Lairig Grhu. We picked an unfortunate time to make camp, just as the heavens opened with associated thunder and lightning. The inner tent was soaked before we were able to put the fly on and then one of the poles snapped. However, nothing that some duct tape and bailing with pan and J-cloth couldn't sort. Don't panic. With hindsight pitching so close to the river in that weather probably wasn't the best of ideas, but all was fine.
The following day we walked through Glen Luibeg, up Glen Derry and up to Loch Etchacan for our second camp. We spotted this pair of Ptarmigans (Lagopus mutus, a member of the Grouse family), the male sticking out like a sore thumb but the female well camouflaged. Both were very approachable and apparently unconcerned by our presence. They were an indication of our remote and mountainous, Arctic even, location.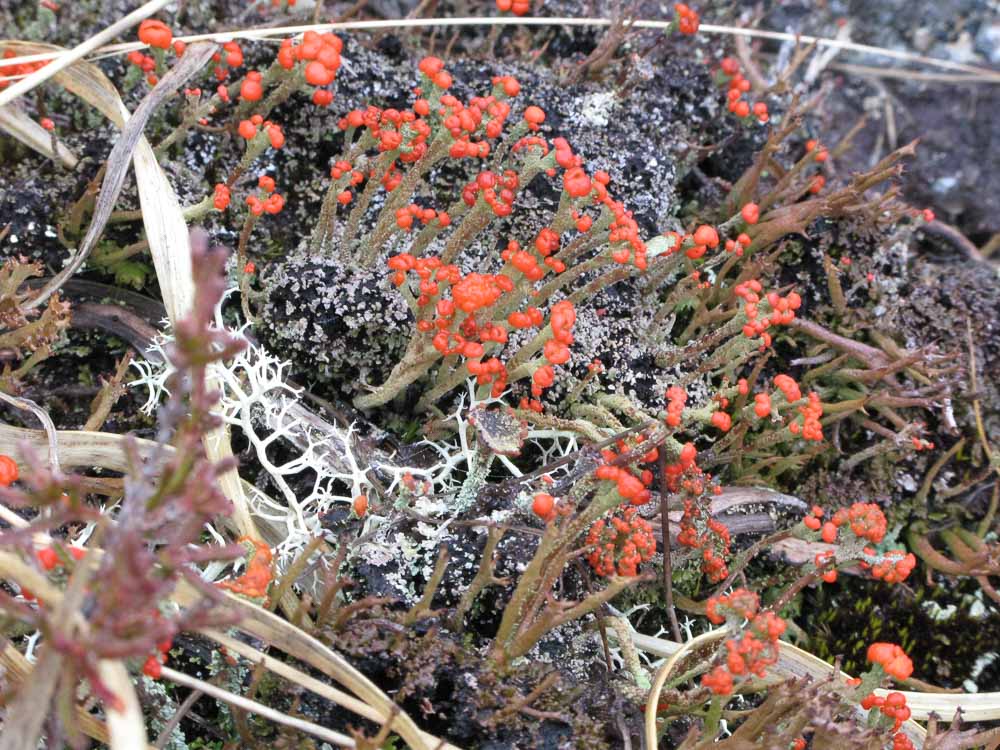 Just to emphasise how clean the air is in Northern Scotland this lichen (a union of algae and fungi living in symbiosis) is common in the area. It is Cladonia floerkeana or Devil's matchstick. The matchstick reference is obvious but it is also apparently known as British soldier which I am not sure I get; the red cap is a beret, perhaps? The red caps are known as podetia and the lichen is 1-3cm high.

A beautiful wild camping location at Loch Etchacan, sadly being spoiled by over use and thoughtless individuals / parties leaving rubbish behind. I found a large (and I mean large) plastic bag of rubbish (dehydrated food wrappers, processed food containers etc) weighted down with a small rock, as if put out for the bin men to collect. Having carried this stuff in and made it lighter to carry out by eating the contents what were the owners thinking by leaving it behind? I left it where it was because I did not have room to fit it in my rucksack. I regret doing that, I wish now I had found a way to bring it out. That was back in 2008, I wonder what the years since have done to the area. It is only a matter of time before wild camping even in the remotest parts of the UK becomes a questionable activity.
In October 2014, Loch Lomond and the Trosachs National Park (LLTNP) held a public consultation on proposals to introduce byelaws banning camping throughout large areas of the Park in response to over-crowding and incidents of antisocial behaviour. Despite 50% of responses being objections to the plans, including from Ramblers, LLTNP and Environment Minister, Aileen McLeod have approved the byelaw to take effect from March 2017.
Whilst I don't agree with a ban I can fully understand why the park authorities would want to do so, given my experience at Loch Etchacan. I think better education and policing is the answer rather than a ban for all, based on the thoughtless activities of a few. It brings to mind a couple of incidents on a trip in the Canadian Rockies where permits have to be obtained and a small fee paid before entering parts of the National Park as a way of monitoring who is there and where they are going. We had reversed our car onto a patch of grass just (and I mean just) off the edge of the car park at the trailhead with a view to temporarily parking here whilst we sorted out our gear on the grass to ensure all in the party had an equal share of the weighty climbing gear. A few minutes later a Parks Police car pulled up, the driver got out with a hand on holstered side-arm and sternly informed us that "off-roading in a National Park was an offence". The officer demanded to speak with the driver of the vehicle who was duly served with an on the spot fine. On another occasion, I was amazed for our group to be asked to produce our permit by a Park Ranger when we were at least 25Km from the nearest road which was itself a long way from any inhabited settlement. I am not suggesting that we need to go that far with wilderness policing in the UK but there has to be a more refined solution than just a ban.
From Loch Etchachan we climbed onto the Cairngorm Plateau via Ben Macdui and onto Cairngorm itself. This view looks back over Loch Etchachan.
At 1309m Ben Macdui is the highest mountain on the Cairngorm range and the second highest mountain in Scotland. The summit has a direction indicator erected in 1925 by the Cairngorm Club of Aberdeen in memory of a past president, Mr. Alexander Copland. The indicator shows the direction of the most prominent hills that can be seen from the summit in clear weather. The indicator is a fine piece of pottery made by Doulton and Co, Lambeth. This holds a particular fascination for me since my Grandfather once worked (and died for that matter, but that's another story) for Doultons and I worked for 30 odd years in a building built on the site of the Doulton factory in Lambeth where this piece was made.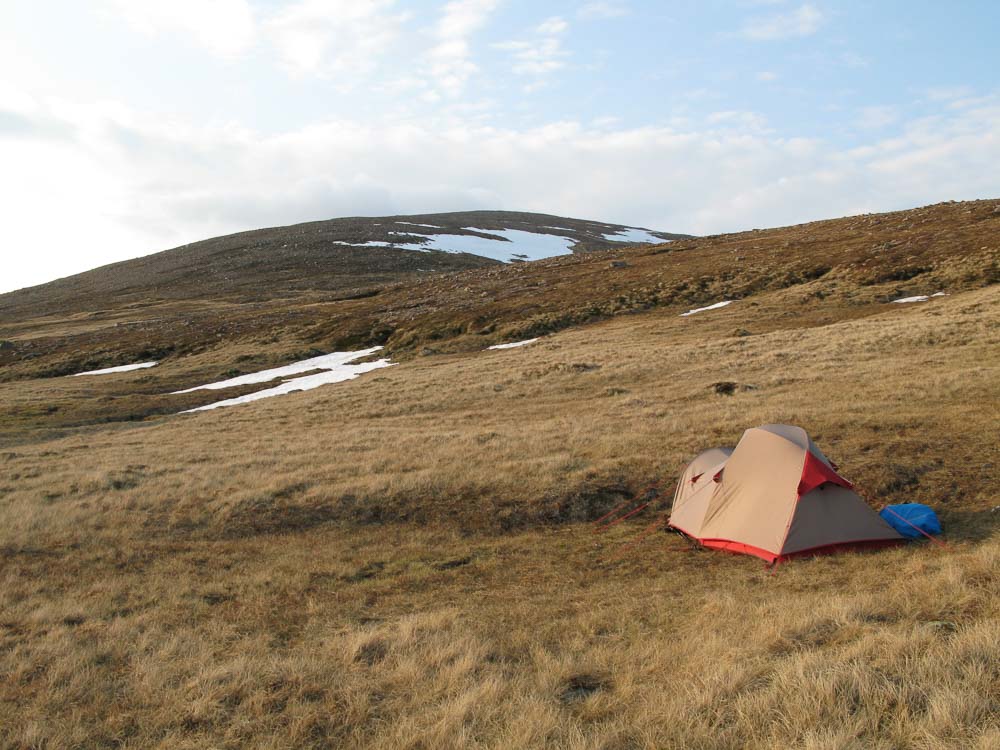 Our intention had been to bypass the Cairngorm summit and head down Coire Raibert into Glen Avon before camping there and returning to Loch Morlich the following day via Glenmore Lodge. However, we found Coire Raibert to be full of snow and in the absence of ice axe and crampons (an ice axe in particular) we thought better of it. So we found another fine camping spot SSW below the Cairngorm summit on a small piece of flat ground that appeared to have been dug out for just such an occasion at some time in the ancient past.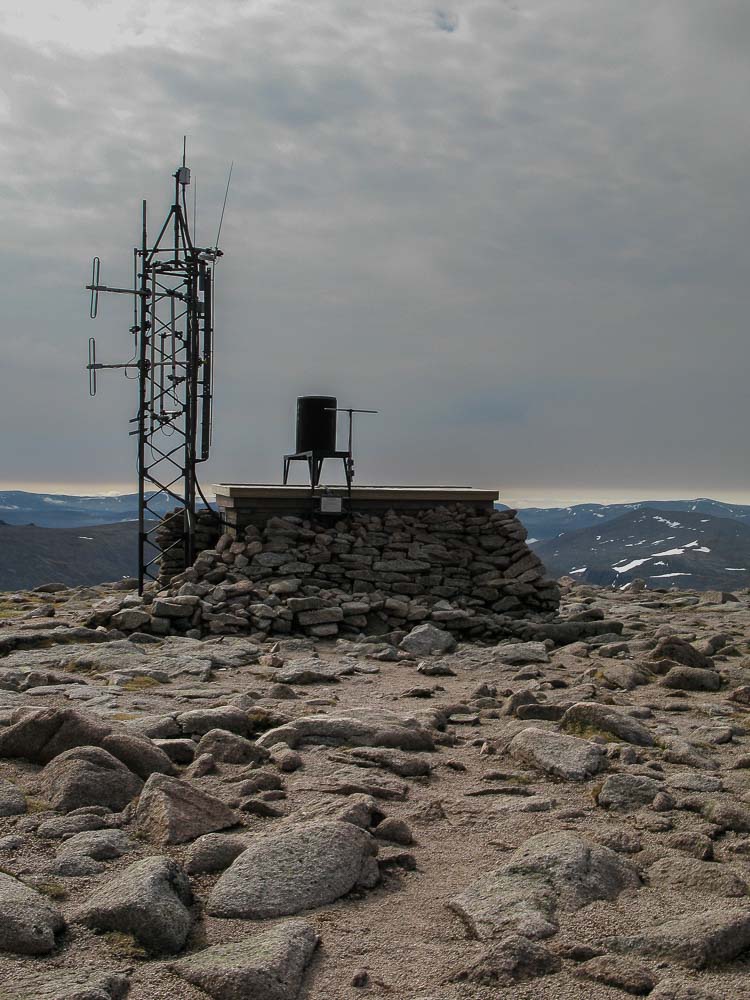 The following morning we were on the summit of Cairngorm before the first Funicular train deposited its inhabitants at the Ptarmigan restaurant and before anyone else had make the walk from the Coire Cas car park. Just us and a flock of snow buntings, which were too small and fast to photograph with my Canon G7. We knew they were snow buntings because we were informed of their likely presence by a bird watcher on his way up as we were descending; he had never seen them; we had now seen dozens.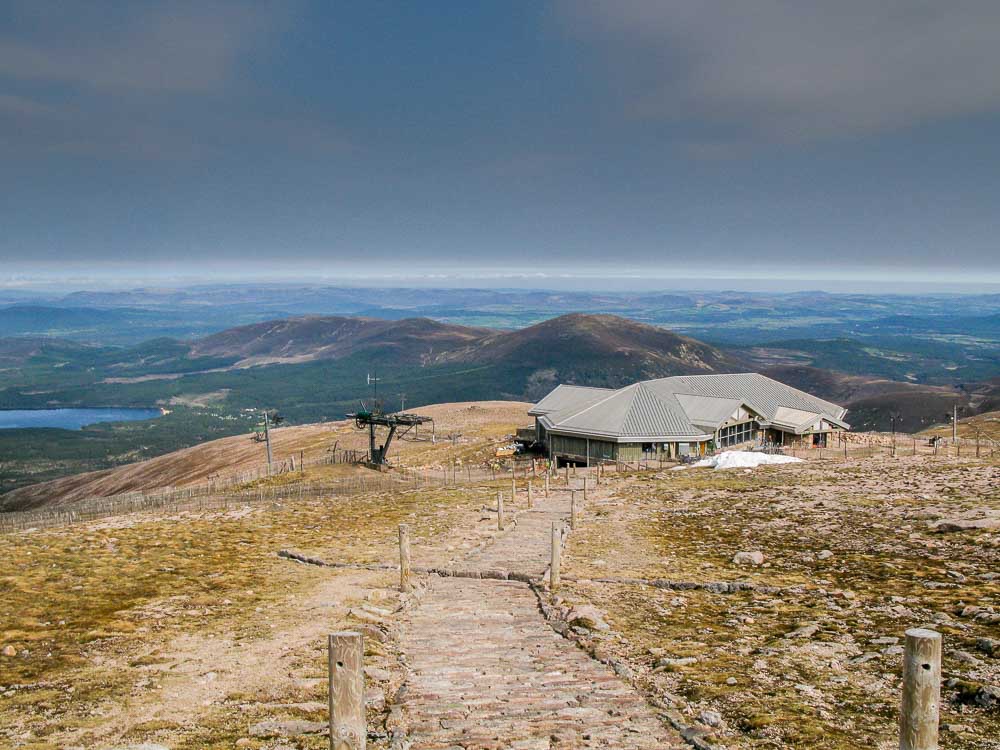 From Cairngorm it was back to Loch Morlich via the Ptarmigan and the Coire Cas car park. We were disappointed to not be allowed into the Ptarmigan Restaurant, it seems that the Funicular passengers are not allowed out for fear of them getting lost and walkers making there way up under their own steam are not allowed in. I am sure there is good reasoning behind this, probably on perfectly laudable safety grounds, just not that obvious to me. In any event it is only a short descent to the car park where there is a similarly large restaurant and cafe where we made full use of the facilities including tea and cake.
Update May 2020. The railway has been closed since September 2018 due to structural problems. In March 2020 a planning application was submitted for repairs by Highlands and Islands Enterprise (HIE), the railway's owners. A final cost and timescale for the repairs had still be calculated.