One man's journey to create a perfect blue cheese at home. I have documented my progress with making blue cheeses over a number of years. I generally only made one such cheese per year – we just don't eat that much cheese. This meant my opportunities to practice were infrequent but hopefully you will see an improvement year on year.
2008, the heavy mould/rind on the outside represents a "failure" to carefully maintain the humidity at around 80%. Too much above 80% results in greater mould growth and hence a thicker rind, if you don't remove it. Also, removing it is not without its problems as I found out later, so read on. Tasted great though! Nicely blue on the inside but the texture is too close to allow the blue mould to create a marbling effect. The texture issue is down to me packing the salted curds in the mould too tightly.
This is the 2009 cheese and I am still having problems with the rind. This one looks nicer because it doesn't have that orange growth on it but still a very thick rind because the humidity was too high in my "cheese cave". My cheese cave being a wine/beer fridge that can maintain a temperature of 12 – 15c. I have since learnt that I can increase the humidity by spraying water on the floor and walls and decrease by propping the door open slightly with a small fridge magnet. I tried to wipe off the mould on the outside but it was too firmly established.
The rind on this one is much better but more by luck than judgement. I took this to France for a significant birthday party in 2010; sadly only British guests attending (English, Welsh and Irish mind) so no French judgement could be made. Inside the 2010 "Pau" cheese was not brilliant, some of the rind extended into the cheese and there was very little marbling. Apologies for the grainy photo, it's the wine. Actually, its more than the wine. We had driven to Pau from Santander in Spain after a VERY rough crossing across the Bay of Biscay from Portsmouth in late October. More sensible but less adventurous people flew to Toulouse and hire a car.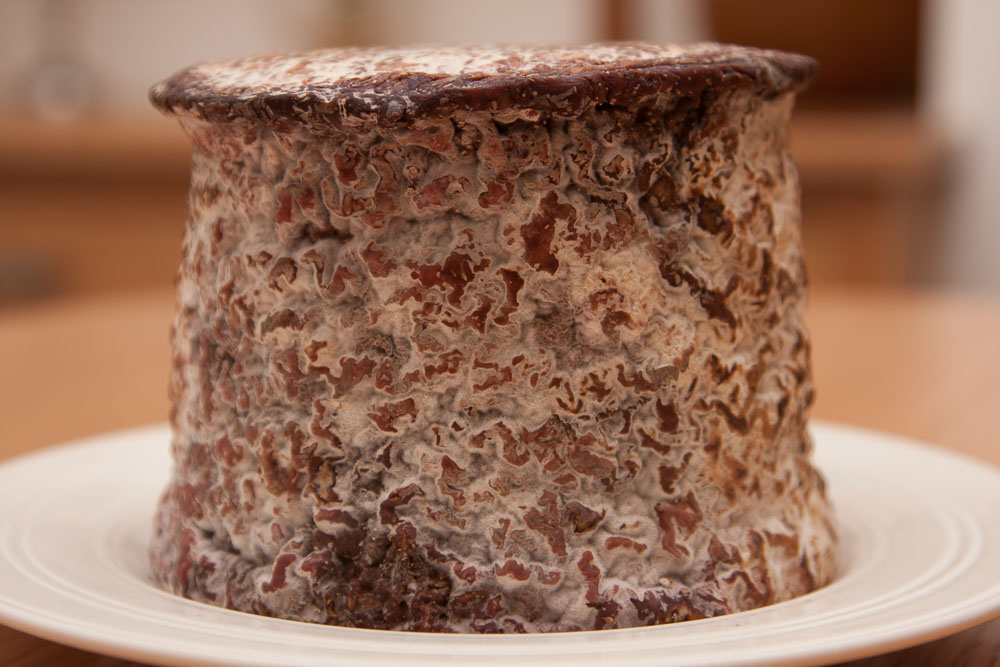 This was 2011 and still a thick rind. I still hadn't sussed out what was causing this at this stage. The "top hat" look comes from the weight of the cheese pressing on one end; I should have turned it more frequently, like daily. However, it was beautiful on the inside but you'll have to take my word for that because I dont have any pictures of it.
I had a year off blue cheese production in 2012. I generally made the cheese in September for Christmas consumption and I was probably too busy at work to get my act together.
In 2013 I made a blue cheese and took it to Paris (along with a ham) for a family Christmas there. On the one hand this was a disaster in that I built the cheese up as a stilton style and when I ceremoniously cut open the cheese on Christmas day after all the traditional fayre had gone before it was white, nice creamy white and not a hint of blue. I had been so diligent about keeping the outside free of rind that I had closed the holes up thus starving the penicillium of oxygen and preventing the blue mould from forming. All was not lost however, it tasted great and several of the guests (including at least one French person) said how much they liked it and that they didn't like blue cheese – I dont think they were just being polite. Those who took pieces of leftover cheese home reported how it quickly developed blue mould now it was exposed to the air.
The 2014 blue cheese. This had a much thinner rind but still not without its problems. This had a thinner rind but the rind had made its way into the cheese through the holes made to create the internal blueing. I had made the holes bigger to prevent the horrors of a white cheese experienced with the "Paris" cheese the previous year. The marbling is getting there and this tasted great again but I wouldn't win any prizes.
The 2015 Christmas cheese cut open. I think the marbling is too exaggerated, the curds were too loosely packed in the mould. However, the rind wasn't too thick after all. It tasted great but perfection still awaits.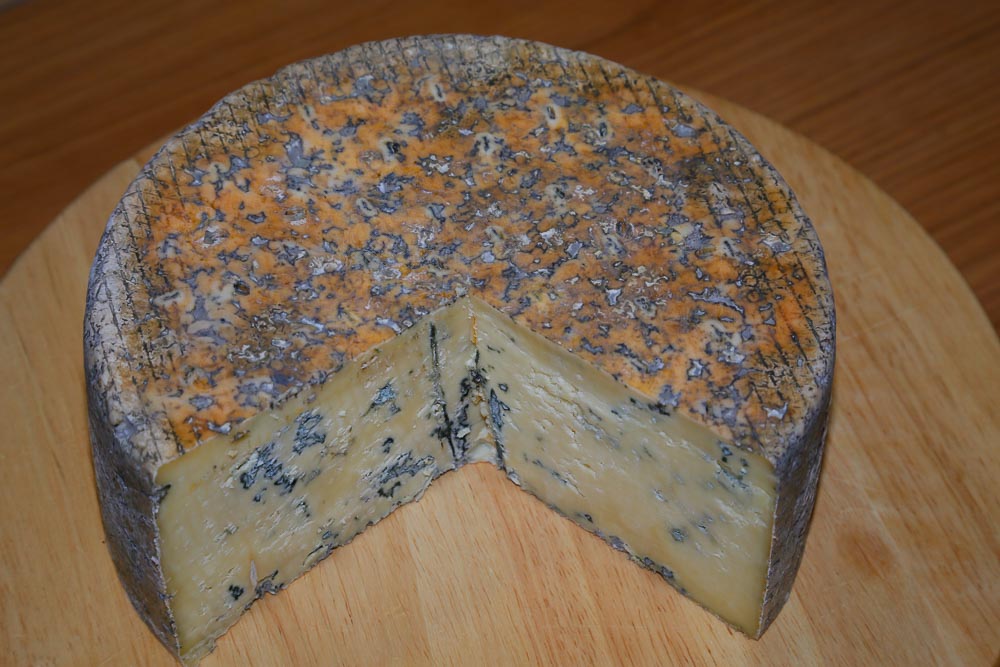 Ureka! One cheese a year for 7 years and finally, I have a presentable stilton style cheese to be proud of. Christmas 2016. Thin, dry, rind; good marbling; great flavour. If anything, this is a little under-ripe but it went down well. This year I used a different recipe courtesy of cheesemaking.com. It was a Dolce Latte recipe and OK, the cheese is nothing like a Dolce Latte but it is a very good blue cheese, in my view. This was made in early November and so was barely 2 months old. I also up-scaled further to 4 gallons of milk – that is about my limit and it makes a good-sized wheel.
I haven't made a blue cheese since. Having finally got there I seem to have lost my motivation. This is partly because I was making large cheeses and we no longer eat that much cheese so there is a risk that it will go to waste. Why don't I make smaller cheeses? Well, I think smaller cheeses are harder to control during the maturing process, they are more susceptible to too much/too little humidity and temperature fluctuations. But, as lockdown progresses in 2020 maybe I will have another go… if I can get hold of the milk.